Camp Alta fulfills its mission through the prayers and generous financial support of donors like you. We are a non-profit, tax exempt organization under the 501(c)3 code of the Internal Revenue Service. Donations to Camp Alta are tax deductible to the full extent of applicable laws.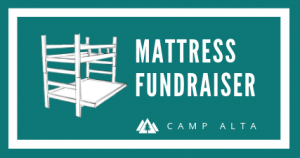 Camp Alta is excited to announce our first ever fundraiser!
During the next 45 days (Until Aug. 15) we will be raising money to purchase new mattresses for all of our lodging spaces that currently have dated mattresses. Our goal is to raise funds for 120 brand spanking new, sleep inducing, wrap you up in God's goodness mattresses, (roughly $12,000).
Will you consider partnering with us as we seek to give our guests an even better experience here at Camp Alta? Visit the Mattress Fundraiser page to get started!
All donations are tax deductible.
Donate Online:
Unrestricted
General Fund
Campership
If the gift purpose is not stated, the gift will be considered an unrestricted donation.
Donate by Mail:
You can donate by mailing a check (payable to Camp Alta) to:
Camp Alta
P.O. Box 628
Alta, CA 95701
If you have any questions about donations, please contact us.
Phone (530) 389-8710  |  Email info@campalta.org